Apple's AirTags might be the world's most famous Bluetooth trackers, but they could soon have some Google rivals that connect to a huge Android equivalent of Apple's 'Find My' network. If that does materialize, it could be an incredibly powerful new way for Android fans to find lost possessions.
Google's rumored AirTag rival – apparently codenamed Grogu, in a nod to fans of The Mandalorian – has been tipped for an announcement at Google I/O 2023, which kicks off on May 10. While the trackers may not arrive on shelves until later, it means Android users could soon see some rivals to the Tile Pro and Samsung Galaxy SmartTag Plus, along with a global object-finding network.
But does the world really need more location trackers? After all, these little key fob-sized gadgets have courted as much controversy as they have praise. The Apple AirTag continues to hit the headlines despite anti-stalking firmware updates, while Tile also recently rolled out a controversial Anti-Theft Mode of its own.
Despite these issues, there is evidence that Google has been laying the groundwork for both its own AirTag rival and an equivalent of Apple's 'Find My' system. The benefit of these systems (and the main source of their controversy) is that they can detect lost objects by using nearby phones, even when your misplaced valuable is offline. If that does come to billions of Android devices, potentially as part of Android 14, it could be a huge feature that takes Bluetooth trackers to a new level.
If this network is opened up to third-party manufacturers, as the rumors suggest, then Android-compatible Bluetooth trackers could become a must-have accessory for the absent-minded. But Google would also have to deal with the understandable privacy concerns that might come along for the ride.
Like the sound of a global object-finding network that could save you from losing prized possessions, wherever you are? Here's everything we know so far about the rumored Google AirTag rivals.
Google AirTags rival release date and price
Google hasn't made any official announcements about its AirTag rivals yet, but some credible rumors from reliable leaker Kuba Wojciechowski (opens in new tab) on January 16 suggested that the concept could be announced at Google I/O 2023.
The developer conference keynote, which is where Google typically announces new products and software, is on May 10. In a detailed breakdown of the AirTag-style tracker, codenamed 'grogu', Wojciechowski suggested that it could then eventually launch at Google's Pixel event, which we're expecting to be in October.
I don't have any information regarding the release timeframe of the tag, but if I had to guess I'd say Google's gonna announce the technology at Google I/O and then launch it at the annual fall event, alongside new Google Pixel devices.January 16, 2023
See more
These rumors are currently based on guesswork rather than leaks, so the timeframes could change. But Google has historically made early hardware announcements at its I/O conference – last year, we saw the Google Pixel 6a, Google Pixel Tablet and Google Pixel Watch all make their first public appearances.
The bad news is that, a year on, we're still waiting for the Pixel Tablet to appear in stores, so a Google I/O announcement doesn't guarantee a swift release. But this recent history does show why Google's developer conference is a good bet for an early preview of its answer to both Apple's AirTag trackers and its 'Find My' network.
Swipe to scroll horizontally
Current Bluetooth tracker pricing

| | | |
| --- | --- | --- |
| Apple AirTag | Tile Pro | Samsung Galaxy SmartTag |
| $29 / £35 / AU$49 | $34 / £29 / AU$49 | $29 / £29 / AU$50 |
| Row 2 – Cell 0 | Row 2 – Cell 1 | Row 2 – Cell 2 |
As for pricing, there have been no leaks to give us a hint of how much a Google Bluetooth tracker might cost yet. But we can get an idea from today's options. An Apple AirTag costs $29 / £35 / AU$49, while a Samsung Galaxy SmartTag goes for $29 / £29 (roughly AU$40). 
Tile's most premium option, meanwhile, costs $34.99/ £29.99 / AU$49.95, though it does also sell the cheaper Tile Mate for $24.99 / £19.99 / AU$34.95. A Google rival to these trackers would likely be in this ballpark, though a burgeoning Android 'Finder Network' could boost competition and drive down prices. 
How might Google's Airtag rival work?
There are two components to the recent Google AirTag rumors. One is that Google is  making its own first-party tracker, but the more interesting evidence is that it could be part of an Android equivalent to Apple's 'Find My' network that's open to third-party manufacturers.
The technology in Google's AirTag-style device (codenamed 'Grogu') is expected to be similar to Apple's. On January 16, the reliable leaker Kuba Wojciechowski (opens in new tab) unearthed evidence that the tracker is apparently "in development by the Nest team", even if it may not carry that branding.
Like the AirTags, it appears Google's version will pack both UWB (Ultra-wideband) and Bluetooth Low Energy connectivity, along with an onboard speaker for emitting cries of help from lost gadgets.
That UWB connectivity is the key one for location trackers. The short-range wireless protocol allows phones to pinpoint the whereabouts of connected objects with a much higher degree of accuracy than Bluetooth. Apple calls this 'Precision Finding' on AirTags. The same tech also allows your phone to do things like act as a digital car key on vehicles with supported locks.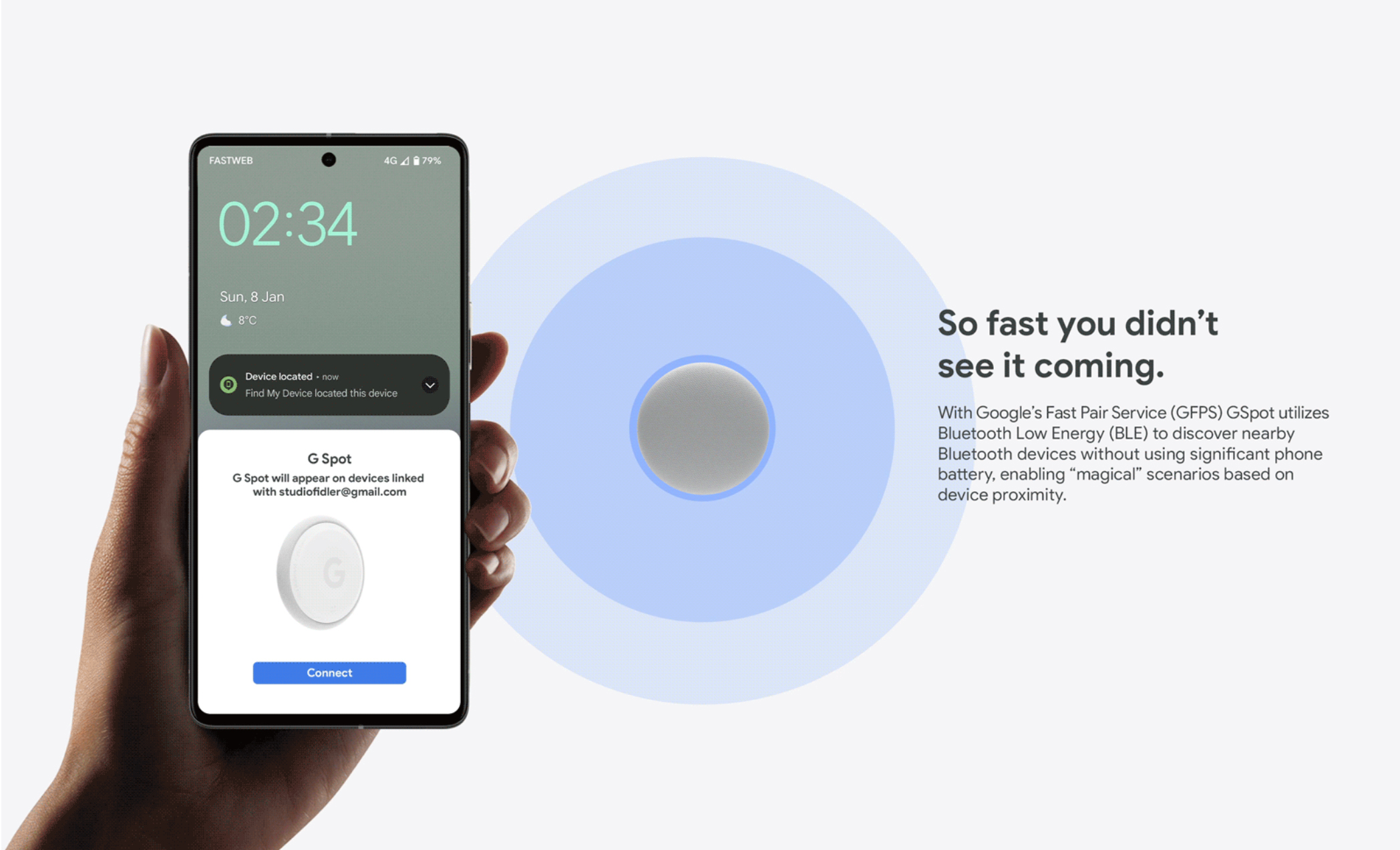 The Google Pixel 6 Pro was the first of Google's phones to support Ultra-wideband, and it's also on the Google Pixel 7 Pro. This means you'll likely need one of the best Pixel phones (or Android phones) to use Google's incoming AirTag equivalent. Because the latter rely on UWB, AirTags are only compatible with phones from the iPhone 11 onwards.
Okay, but we've seen lots of Bluetooth trackers that support Ultra-wideband before, right? Well, Google's system could have two important twists. Firstly, as spotted by Android journalist Mishaal Rahman (opens in new tab), Google recently added support for 'locator tags' to its Fast Pair standard. Fast Pair is an existing Android feature that helps you quickly connect to nearby Bluetooth devices using a pop-up menu (like in the mockup above) and is open to third-party devices.
This means the speedy pairing system underpinning Google's tracker network could be open to all compatible trackers, not just Google's AirTag rival. But there's more. Those earlier leaks also revealed that Google is working on its equivalent of Apple's 'Find My' network, potentially called the 'Finder Network'.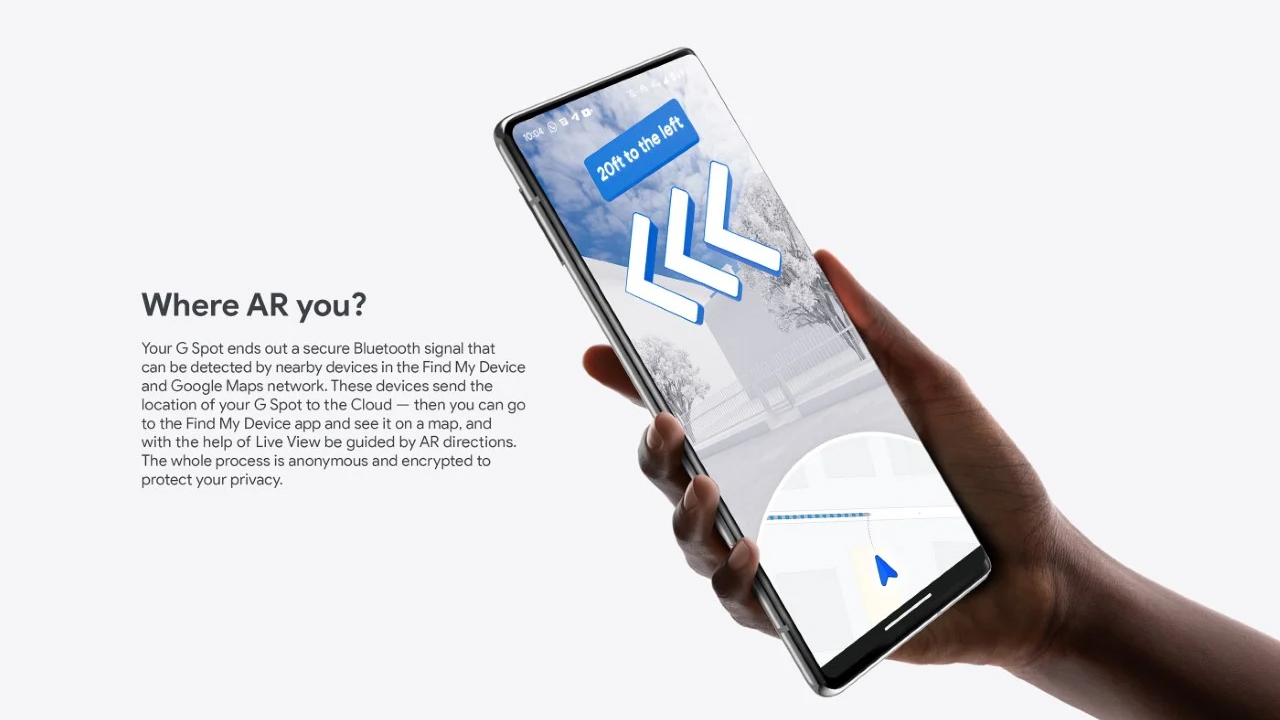 It's this 'Finder Network' that could be Google's key to making something more than just another AirTag clone. Apple's 'Find My' network anonymously uses the Bluetooth connections of fellow Apple users to look for AirTags (or compatible third-party device) if they're offline or out of Bluetooth range. That's a powerful, invisible trick that's fortunately also end-to-end encrypted.
Apple calls this a "crowdsourced network of hundreds of millions of Apple devices". But Google potentially has a bigger army of helpers to track down your lost gadget. At last year's Google I/O 2022 conference, the company revealed that there are now over three billion active Android devices in the world. That's a lot of potential help when it comes to finding your lost suitcase or camera.
Android already has a limited 'Find My Device' feature, but until recently it's based on your device's most recent known location. Back in December 2022, though, an update (opens in new tab) meant that it "now supports encrypted last-known-location reports for Android devices, using a new privacy centric framework". We haven't seen any more updates to 'Find My Device' since then, but it does look suspiciously like the fingermarks of Google's rumored 'Finder Network'.
Put all of those pieces together and you potentially have the world's most powerful system for finding lost items or possessions, for Android fans at least. Google's own AirTag-style tracker might not be a technological leap over its Apple rival, but the system it's based on could be both more open and bigger than 'Find My'. Who knows, maybe it'll be powerful enough to compel Apple to release that long-rumored AirTag 2.
Early thoughts: why could Google's AirTags be better?
We've previously argued that Google's rumored AirTag rival could be an Android moment for Bluetooth trackers, and the evidence suggests it has the potential to be just that. What's less clear is when the tracker and new 'Finder Network' might be announced – and that rumored Google I/O 2023 debut is currently just guesswork.
Still, Google does have a history of making similar announcements at its developer conference and it feels like an AirTag rival would need to arrive this year. Google's current 'Find My Device' app arrived six years ago at Google I/O 2017 and evidence that it could be making a full-blown equivalent of Apple's 'Find My' network was first spotted by XDA Developers (opens in new tab) back in June 2021.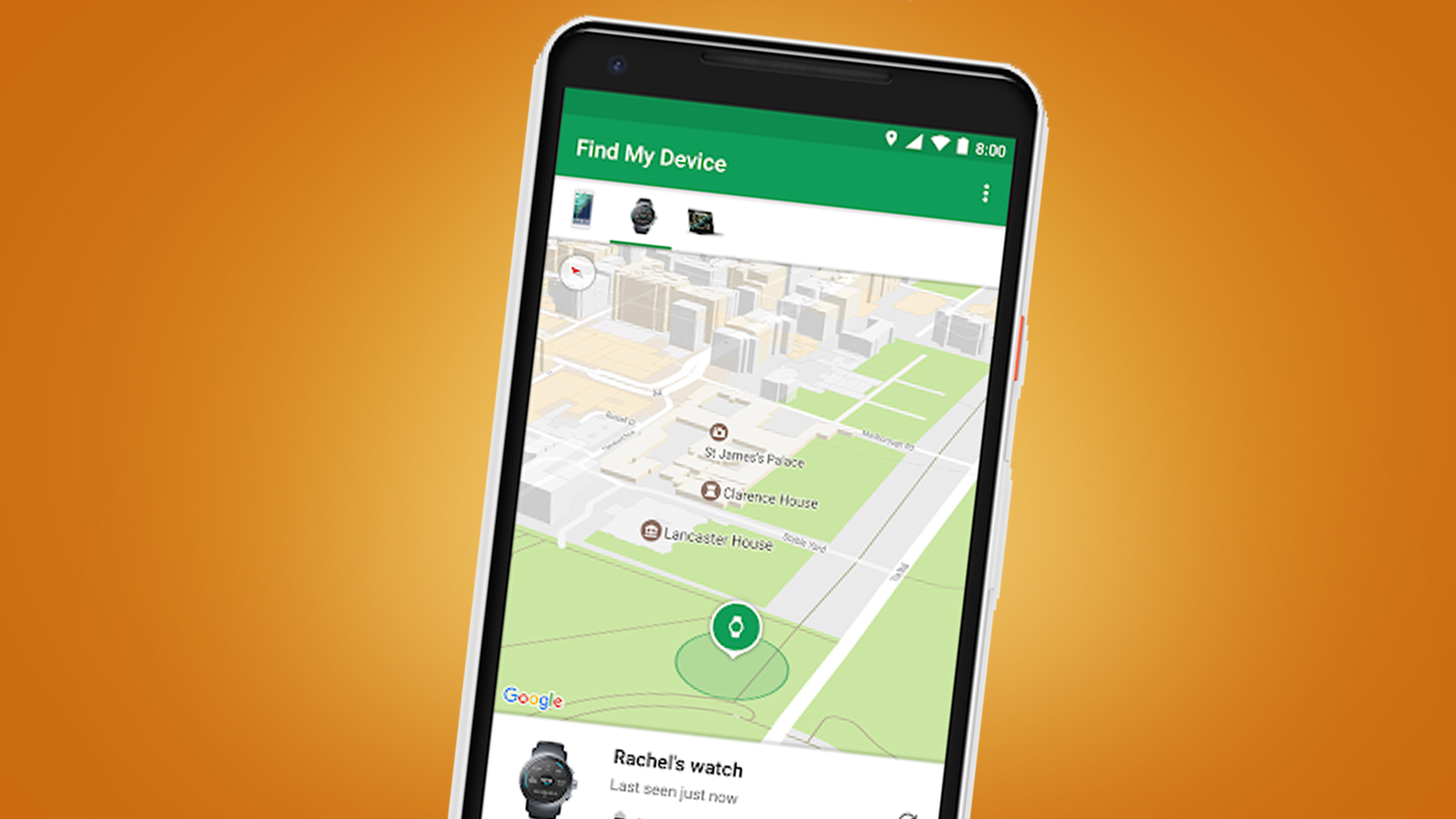 With the arrival of Ultra-wideband connectivity on recent Google Pixel phones, the pieces are coming together for a launch soon. The delays could be as much privacy-related as they are technological – Apple had to issue an update on AirTag and unwanted tracking (opens in new tab) in February 2022 and AirTags continue to hit the headlines for both good and bad reasons.
What isn't in doubt is the globe-spanning potential of a Google AirTag with a tracking network that anonymously piggybacks on billions of Android devices. Bluetooth trackers are currently in a fragmented state, with Samsung's SmartThings Find service only compatible with Galaxy phones and Apple's AirTags being iPhone-only.
Both could be dwarfed by an Android-powered 'Finder Network', particularly if it's open to third-party manufacturers and connects to other tracking networks in the same way that Tile does with the Amazon Sidewalk. Whether all of this is indeed the case is something we're potentially looking forward to hearing about at Google I/O 2023.