Motorola has unveiled the Motorola Edge 40 Pro, a successor to last year's Edge 30 Pro (and Edge 30 Ultra, going off the pricing). The company is aiming firmly at the high end, with an excellent choice of materials, a strong camera selection, and powerful internals. As with many Android phones this year, it also comes with super-fast charging, 125W to be precise.
Here we've detailed everything you need to know about the Motorola Edge 40 Pro, from pricing and availability to specs, and so on.
Cut to the chase
What is it? Motorola's 2023 flagship
When is it out? April 4
How much does it cost? £799.99 (roughly $983 / AU$1473)
Motorola Edge 40 Pro release date and price
The Motorola Edge 40 Pro is set to go on sale in the UK from April 4, at a price of £799.99 (roughly $983 / AU$1473). It will be available from Motorola's web store. In the UK, Motorola typically liaises with other large online retailers, including Amazon, Curry's, Carphone Warehouse, and we expect that to be the case this year too, absent explicit confirmation.
It is a little pricier than 2023's Edge 30 Pro and appears to be priced as more of a replacement to the Motorola Edge 30 Ultra. The company's choice of materials and powerful internals may well justify its price hike, though.
Motorola Edge 40 Pro design and Display  
The Motorola Edge 40 Pro is a very premium-looking and premium-feeling device. Gone are the plastic and Gorilla Glass 3 of last year. Instead, it's a metal and glass sandwich phone. Much like the Oppo Find X5 (non Pro), it has soft-touch matte glass on the rear and Gorilla Glass Victus, with anti-glare protection, on the front.
The screen is still big though, at 6.67-inches. It's a Full HD+ panel – as one expects on phones of this caliber and price – with a pixel density of 394ppi. This means that it's sharp and it should feel responsive too, really responsive, thanks to a peak 165Hz refresh rate.
Design-wise, the Edge 40 Pro is a big-screen candybar phone. It has a slight curve along its sides, while the screen is uninterrupted with a punch-hole camera in the top-center. At the rear, you'll find a triple-sensor camera layout.
The Motorola Edge 40 Pro comes complete with an IP68 rating; this means, like many other flagships (but unlike the Moto Edge 30 Pro), it's capable of being submerged in water and is protected from dust.
You can purchase it in Interstellar Black or Lunar Blue colorways.
Motorola Edge 40 Pro camera and battery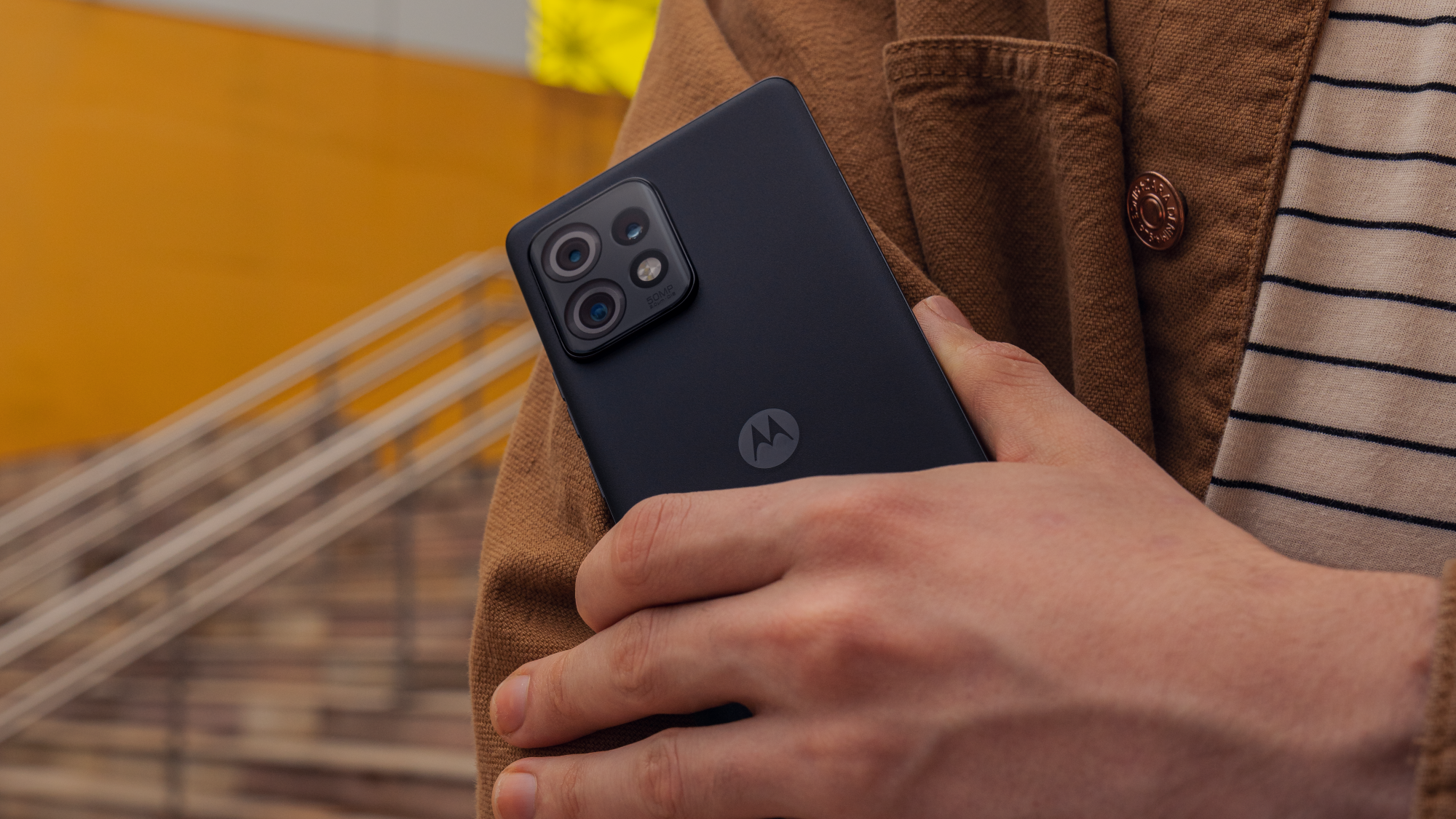 The Motorola Edge 40 Pro is a proper flagship, comparable to the Samsung Galaxy S23 Ultra and the OnePlus 11. This means you'll find a Snapdragon 8 Gen 2 processor inside; with all the performance and efficiency upgrades that it entails.
It has 12GB of LPDDR5X RAM, with either 256 or 512GB of UFS4.0 storage. It has all the latest connectivity standards too, including USB 3.2, Bluetooth 5.3, WiFi 6E and WiFi 7, and 5G, naturally.
There's a set of stereo speakers at the top and at the bottom of the 40 Pro, tuned by Dolby Atmos. You can use dual-SIM functionality on this device too, should you choose to adopt an eSIM for your work number or whatever else.
On paper, it's a promising-looking upgrade to the Edge 30 Pro, even if it doesn't appear to be earth-shattering in its improvements. Nonetheless, there's every chance it'll make its way onto our rundown of the best Motorola phones and beyond, once we've given it a full review.
What about the Motorola Edge 40?
Motorola has yet to announce an Edge 40, though rumors abound from tipsters like MySmartPrice (opens in new tab)who claim it would be a smaller, slightly weaker variant of the Edge 40 Pro.  
In other words, the standard Edge 40  is expected to be an all-new phone – complete with an as-yet-unannounced MediaTek Dimensity 8020 chip – and is likely to be a step down from the Pro in all aspects. The display is said to be 6.55 inches, with a 144Hz refresh rate, while the rear camera setup is reportedly comprised of a 50MP main camera, accompanied by a 13MP ultrawide. 
According to the leak, it'll have 8GB of RAM and 256GB of storage, with a 4,400mAh battery and 68W charging rounding out the specs. It's also worth noting that the Motorola X40, which the Edge 40 Pro is based on, does not have a cheaper variant in China at this time, so we would take all reports with a grain of salt until an announcement is made.